I was elated when I finally got my New York State Driver's License! This was my second attempt to pass the NYS Road Test and it differed tremendously from my first.  I now feel seasoned in this subject so here are 5 tips to pass the NYS Road Test.
Be comfortable and confident driving the correct way. Whether you learned how to drive through a driving school or a seasoned driver a major factor in driving well is confidence and knowledge of proper technique and the rules of the road. The Driver's Manual is there for a reason, make sure that you know the rules and follow them.
when you are not a confident driver it is visible in too much hesitation or doing the wrong thing at the wrong time which will lead to unnecessary points on your exam; like in golf the points are against you.
If you've practiced enough you will do fine. The first time I took my test I was not ready. I had an inkling of this but thought I would still pass, mainly because my deceitful driving school made me believe I would.
2. Technique is key. Yes doing "hand over hand" turns earns you brownie points. Changing gears first, turning your wheel the right amount next, checking and double checking your mirrors and your blind spot, and using discretion with acceleration and braking are necessary. I got 90, YES NINETY points on my first test because I did most of these completely wrong without even realizing it. I went into the test not fully realizing that any and EVERY thing I did wrong would add up right away. When I asked the examiner what I did wrong she simply responded "Everything, honey."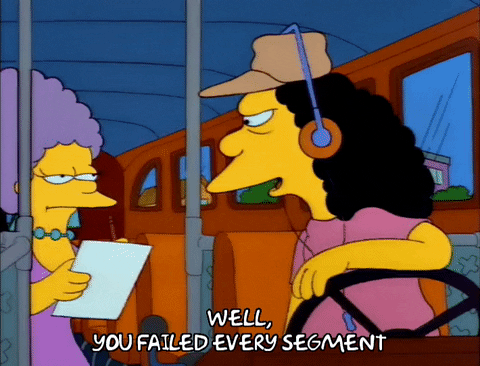 3. Follow the examiner's instructions and make sure you understand them clearly before proceeding. When the examiner enters the vehicle make sure they see you sit down, adjust your seat, put on you seat belt, adjust your mirrors, and wait for instruction. Don't turn on the ignition before being told to do so and don't complicate things with small talk. Focus is key and the examiner's job is to ensure that you will be a safe fit for the road. On both exams I was told to start driving when it's safe to do, make sure you do that and the correct way, i.e. not in the parking lane.
4. Practice driving in unfamiliar territory. If you only drive in your own neighborhood you probably won't be fully prepared.  Practice driving any and everywhere possible to ensure your eyes get used to recognizing how streets can change. Look out for two way streets that turn into one way streets or vice versa, two lane streets that turn to one lane, dead end streets,  and busy streets and highways where you'll get to practice going in and out of lanes correctly.
5. There is no such thing as being too prepared. PRACTICE, PRACTICE, PRACTICE. I recommend practicing the morning of your test as well. I did not do this for my first exam but when I did for my second I made all my mistakes in the practice drive. Practicing driving the morning of my road test helped me get rid of some anxiety and warm up to the car I was using for the exam.
I scored 5 points on my second test —nearly perfect, compared to the mess I did on my first test. The difference was I was actually prepared, aware of all the rules, and comfortable driving. Good luck! Let me know if these tips helped you  pass the NYS road test or if you have any pointers by commenting down below.